Vic Jenkins, who could be described as being the soul of Station 131, died March 21, 2000, at his home in Bishop's Stortford, England. He was 70.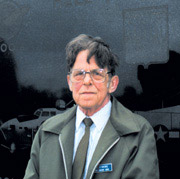 His 'second home' was Station 131, where he served in the Royal Air Force in the post-WW II years, and later as a 131 historian. In the 70's he teamed up with Ozzie Osborn to lead the UK drive to build the memorial that now stands at Nuthampstead.

Jenkins' bus tours of the old base were always a highlight for former 398'ers returning to their old haunts. He knew every corner of the base and his collection of photos and slides were a must for visitors.

Vic wrote of the 'ghosts' of Station 131 (FLAK NEWS, Vol. 10, No. 4) telling of hearing the strains of 'Moonlight Serenade' as he patrolled the old, empty Sub Depot hangar where Glenn Miller once played.

Vic is survived by his wife, Yvonne. And a vast number of men and women of the 398th who will always see his face as they view the Memorial at Nuthampstead.