Recollections of the Mission to Merseburg
21 November 1944
An Interview with Bob Welty
November 28, 1997
Background Information
Lt. Bob Welty was the Co-Pilot on the 603rd Joe Tarr Crew with the 398th Bomb Group during WWII. The crew trained at Avon Park, Florida during the summer of 1944 and then flew to their new base at Nuthampstead, England. Their they began their missions with the 398th.
DAVE WELTY sat his brother BOB WELTY down the day after Thanksgiving 1997. This transcription of the Merseberg mission of November 21, 1944 is from Tape 1, Side B. In general Bob talks about his six Merseberg missions and in particular the November 21st mission which was the deadliest day in 398th history. In the tape, after a discussion of Bob's first mission and the young man in The Red Badge of Courage, Dave asks a general question about flak.
Anything bracketed are my clarifications. Also at the end of this part of the tape transcript I add things that Dad has left out in this telling of the mission but I remember from other tellings of the story.
Scott Welty
The Inteview also includes information on Flak Strategies, Oxygen Checks, and the German Fighter Abbeville Gang.
Details about the interview
Bob Welty Interview by Dave Welty
November 28, 1997
Done the day after 1997 Thanksgiving
Partial Transcript (The Merseberg Section)
Transcribed by Scott Welty, Bob's son in March 2007
Voices on this section of the tapes:
Joel David [Dave] Welty, interviewer and Bob's younger brother
Robert [Bob] McCain Welty, interviewee
Frederick [Fritz] Welty – Youngest of the Welty brothers
Eleanor [Ellie] Welty – Dave's wife can be heard laughing at Dad's story at some point.
Interview Begins
DAVE
Would you have flak most of the way that you were over Germany?
BOB
No.
DAVE
Or just at the target.
BOB
No. They couldn't afford to do that.
DAVE
Yeah.
BOB
They had – you couldn't get into Germany without being shot at because they had a ring of flak all around – all away around the border. Then you could go along for mile after mile and long as you didn't get it over a big city, why you wouldn't catch much. But then depending on the target, they had most targets pretty well covered with flak and Merseberg which was the worst target in Europe.
The intelligence guys from London - they used to come and give us a talk every few weeks as to what was going on - said there were twelve hundred 88s and 105s in the Merseberg area. And when they threw a flak barrage it was unbelievable. You couldn't believe it. And uh – the uh – we lost – well – We lost sixty B17s one day to flak – ground fire alone at Merseberg.
DAVE
Out of how many?
BOB
Well, probably eight hundred or so.
DAVE
Yeah.
BOB
Yeah. Also the anti-aircraft battalion that ran those guns – the guy from intelligence told us – that [they] had been together since peacetime and that during peacetime on Sunday afternoons people would bring their lunch out to the field and they would put on a demonstration about how accurate they were – and they were accurate. There was nobody and there was no target that was even close to them as far as accuracy.
DAVE
Hmm!
BOB
Another thing they did – usually the Germans would hook maybe three guns to one radar set. And their radar sets would cut the fuses and would aim the guns and so on and fire. And so what you would often see would be three bursts – bing, bing, bing – right in front of you or right off to one side and so on. Once in a while they would hook six together and you'd get a Wham! – six of them all going off at once. But not at Merseberg; they'd hook twelve of them together and it was something! It was – talk about Fourth of July! [Laughs.]
DAVE
Oh gee.
BOB
And it – the…
DAVE
And of course if they bracket a plane then it just rips the plane to pieces.
BOB
Yeah. And I know I saw one plane at Merseberg, we were about ten miles away approaching the target – I went to Merseberg six times. It really was unbelievable the chances – but, uh, one going to Merseberg we were about ten miles away and all of a sudden I saw this explosion of , uh, apparently, just kind of a flowery exploding over the target. And it was the most vivid electric pink I've ever seen. DAVE
Hm!
BOB
But it – the only thing we could figure was a shell had gone off inside their bomb bay before the bombs were dropped.
DAVE
Yeah.
BOB
And that would take out probably that plane and one or two next to it I would imagine. Yeah.
DAVE
The shock wave alone.
BOB
Yeah. Yeah. So, uh. They, uh. That particular mission I think might have been the one where we lost sixty planes. I don't really remember; I can't keep 'em straight.
DAVE
Yeah. What were your feelings in a situation like that?
BOB
Well, uh, scared. [Short laugh.] Uh, I…
DAVE
Was there a sense of I'm going to go get those bastards for what they have done?
BOB
No, no. No, no.
DAVE
None of that?
BOB
I never felt that.
DAVE
Yeah.
BOB
The one thing I discovered about fear was – it does – you read about your fear rising to – in your throat – that sort of thing. And you sure feel that but I always had a feeling that if I could keep it no higher than in my throat I'd be alright. I always felt that if it got up into my head I'd go berserk. I mean that was just a feeling I had.
DAVE
Yeah, yeah
BOB
And, uh. So you kind of made an almost physical effort to keep it here and below so you can keep flying the airplane and not jump out of your seat and run around in circles or something.
DAVE
Yeah, yeah.
BOB
Well, anyway, we did thirty-five missions. Once in a while you get a milk run; you go over – nothing would happen – just drop the bombs and come back.
We did have one terrible mission and that was November 21st in '44. Our squadron was coming back home by itself and we got hit by Herman Goring's personal squadron, the Abbeville Gang. The called themselves the Abbeville gang. You couldn't become a member of that squadron unless you had five kills. You had to be a – you had to be an ace and most of most of them had many more than that.
And we were the high squadron that day. There was always a middle squadron and a low squadron and a high squadron. We were the high squadron that day and the rest of the squadrons flew into a front and we were just barely above it and so we didn't get into the clouds. And we were flying along - we lost track of them – we didn't know where they were. And, uh, there were - really there were nine of us; we lost two at the target and I think one guy had aborted so we normally would have had twelve planes but we were down to nine.
And, uh, up ahead I could – Oh! When we were over the target we caught a piece of flak in the air – in the oxygen system – and it emptied all the oxygen from one side of the plane. They had duel systems. We realized it but the tail gunner didn't and he was still breathing the system that actually been drained of oxygen. [The tail gunner was Cpl. Bill Fleming.]
DAVE
He couldn't tell the…
BOB
No you can't tell. This is what's called anoxia and your body has no way of signaling you that there is not enough oxygen in the air. People say well don't you feel like you're suffocating? No, you're drawing in all the air you feel like you need but at twenty-eight thousand feet there are not enough oxygen molecules to keep you alive but you have no way of telling that.
DAVE
Oh. I see.
BOB
So it sneaks up on you and what – what in – by each oxygen hose there was a gadget that looked like an eye and when you were breathing oxygen that little eye would blink every time you breathed in. And about every three minutes the bombardier would come on and say "Oxygen check" and the tail gunner would say "tail gunner OK," - "Waist gunner's OK," – the radioman – they'd come right up and then we'd say "OK." And then he'd wait three minutes; that's how fast they wanted – if somebody didn't answer they wanted to know right away. So all through all those missions you were getting oxygen checks every three, four minutes.
He made an oxygen check and the tail gunner didn't answer. And two things could happen: he could maybe pass out or maybe the intercom had been knocked out going back to him and he couldn't hear us.
DAVE
Or he could have been killed with flak.
BOB
Or he could have been. You didn't know.
So one of the – one of the waist gunners [either Cpl. Maury Newcomer or Cpl. Al Dougherty] crawled back there and that was difficult because you had to crawl around the tail wheel which had recessed up into the body of the plane and there wasn't much room. You had to wiggle through there with his oxygen bottle. We had little bottles about the size of a quart, or a half gallon. And they were full of oxygen so if you wanted to walk around in the plane they were called "Walk around" bottles and you'd unplug your oxygen from the system and you'd plug it into the "Walk around" bottle which hung on your belt and you could go out and…
So that's what he [the waist gunner did] … He went back and he found him - turning blue. Found the poor tail gunner was going out. He dragged him back. I guess he gave him some air out of his out of his own oxygen bottle. Dragged him back to the waist and they were reviving him but in all that time we [the pilot and co-pilot] kept calling back, you know, "What's going on? What's going on?" And finally Joe [Lt. Joe Tarr, the pilot] said I can't stand this I'm going to go back and see what's going on. So he got up out of his seat and I'm flying and he puts on his "walk around" bottle. He crawls through – he has to go through the bomb bay, through the radio room - finally he gets back to the waist.
And right about then here come the Abbeville gang.
[BOB laughs.]
DAVE
Oh… man!
FREDERICK "FRITZ" WELTY
[Laughs] Oh, gee!
BOB
And I could see this guy coming at me. And I had just fairly recently had been reading about the Kamikaze's in the Pacific. And this was coming so close and so flat out right at me that I thought, my gosh, the Germans are starting this Kamikaze stuff. And I kept pushing the wheel down to get underneath him and could see his tracers going about from here to about from here to the ceiling. [Bob is indicating the ceiling in his home as a reference.] You know, they were just barely above the plane, these tracers going overhead. And, uh, I kept pushing the wheel down. And he, he went over, you know, no… no higher than that. He was just barely over the top of the plane.
The top turret gunner got one round off at him. [S/Sgt. Russ Currier was engineer and top turret gunner.]
DAVE
One round.
BOB
[Laughs.] Yeah. And then I sat there thinking….
Oh! And I looked up and through my top window I could see that the plane that had been on our wing was like this.
[Bob uses his hands to describe where the other plane's position and angle was in relation to his plane. Dad's hand representing his plane parallel to the floor and straight.]
And I think the pilots had been killed. I don't know but anyway they lost control. And they were right above me and about to slide down. And the only thing I could do would – I just turned like this –
[Bob's hand representing his plane turns perpendicular to the floor]
- and he slid past my belly.
DAVE
And on down.
BOB
And on down. And, uh, uh, I looked around could see guys bailing out of planes and, uh, planes going down. And I thought at first we were the only ones who survived but pretty soon there were three others we found. And we formed a little diamond-shaped formation and we flew back to England. [BOB chuckles. It sounds like DAVE'S wife ELLIE is chuckling too.]
Um, weeks later… they captured a German pilot and got to bragging: "Ah! Last November 21st we shot down a whole squadron of B17s!" They thought they gotten all of us. And I think part of the reason was that when they looked back here I am – I'm cocked up like this and this guy -
[Bob's hand representing his plane is perpendicular to the ground. Bob's hand representing the other hand must show it at an odd angle to the ground.]
- and they figure they gotten me too….
DAVE
Looked like you were both going – slipping down….
BOB
They're both going down, yeah. So, uh, they didn't…. I kept expecting him…. And, uh, when something like this happens your mind works twenty times faster then it ever has before. And I thought of a lot of things. One of the things was – as they were coming towards me my first… [Chuckles] first thought was "I wonder what our rate of closure is?"
[BOB, DAVE and FRITZ laugh.]
DAVE [laughing.]
From a scientific point of view.
BOB
[Laughs] Yes, how many miles an hour are we closing on each other. And, uh, then, uh, after I had leveled out from missing my wingman, uh, I got to thinking that the Germans are going to go around and are going approach from the right. Why I had that feeling they were going to make the – make another approach from the right – I have no idea.
But I had it figured out that what I would do – I would turn into 'em and then turn upside down and do what was called a "Split S." You turn the plane over and "Split S" like that. And about two or three thousand feet below us was this cloud deck. And I was going to dive for this cloud deck. And then….
Well, I've since learned that if I had gotten that B17 pointing straight down there probably – I probably wouldn't have been able to get out of it. It's just….
DAVE
Oh, it wouldn't do that.
BOB
I'm not sure of that. I'd like to talk to someone whose a real expert on B17s but I kind of think that if I had gotten the plane upside down, pointing straight down, I simply wouldn't have had enough room to pull the thing out of it..
DAVE
Yeah.
BOB
…of that dive.
DAVE
Yeah. Oh, man.
BOB
Yeah. But… that I don't know. I'm not really sure.
DAVE
Yeah.
BOB
Well, Joe [Tarr], of course, is coming back and he….
DAVE
And bouncing around inside the plane.
BOB
He got, he got into the bomb bay and I turn the plane up on ninety-degree, at a ninety-degree angle, and he's flopping around in the bomb bay. And….
[BOB, DAVE and ELLIE are laughing.]
DAVE [Laughing]
Wondering what you were doing.
BOB
Well, he thought I was hit.
DAVE
Sure.
[Around Christmas 2006, Bob Welty told Scott Welty that Joe Tarr and crew thought that Bob's body was pushing onto the wheel of the plane and making the plane to violently turn on its side.]
BOB
And, uh, so finally he crawls through the top turret gunner; he has to crawl through the top turret gunner's legs because he's [the turret gunner] straddling the…. Crawls through the top turret gunner… and he pokes his hear out into the cockpit and I turn like… look at him and with his oxygen mask on [Begins chuckling] and the thing that went through my mind was: "He looks like a chipmunk coming out of a hole."
[DAVE, BOB, FRITZ and ELLIE laugh.]
BOB
And he looked at me, you know, wondering if I was dead or alive. So then he got in and he got in the seat and that's when he took over the plane. And that's when we got the formation and flew home.
And, uh, I also learned fairly recently that… that was the lead news report on the evening news in Germany – of the fact that they shot us all down.
DAVE
Oh, yeah. Yeah.
BOB
I didn't know that we'd gotten such notoriety.
DAVE
Yeah. Too bad you didn't get some newspaper clippings.
BOB
Wellll, yeaaah. Or somebody… somebody make a recording of it. [Laughs]
DAVE
They should have… should have sent that to you.
BOB
So… but that was the worst – that was as far as our squadron was concerned – that was the worst loss we had in any one day. But we'd lose guys. Guys would come and they'd fly two missions and they'd be gone, you know, and we'd not even get to know them.
And one statistic I've recited and I'm pretty sure it's correct because I believed it at the time: When I joined the squadron we made… we were the fourteenth crew. The table organizations called for twenty-one but they couldn't keep guys there long enough. But anyway, we crew number fourteen. And of the original fourteen only four of us finished. So either they got lost at sea or were shot down or something happened to them.
DAVE
Yeah. That's a high mortality rate.
BOB
Yeah, the rate of attrition was absolutely fantastic.
[The next question is whether BOB ever did a mission to Bremen. When DAVE was stationed in Germany right after the war he visited Bremen and viewed the devastation the bombing had down to that town.]
ADDENDUM TO THE TRANSCRIPT
There are some other pieces of the Merseberg Mission that Dad (Bob) told at other times:
Clouds - After the attack, the four remaining planes used the cloud cover to get away.
Abbeville fake a dog fight – Bob has said he was flying along and looked out the window at a dog fight waging in the distance. The fighters were chasing and diving, pursuing and breaking off. Dad couldn't make identification of the planes and assumed it was American versus German fighters. But neither side seemed to be making any progress. Then all at once in unison both sides veered from their dog fight and flew right at Dad's squadron. Both sides were Herman Goring's Abbeville Gang.
In my internet searches, I come up with "The Abbeville Kids" and "The Abbeville Boys" I think "kids" "boys" and "gang" are interchangeable in translations.
US shoots German fighters out of the sky – Why did Abbeville gang use deception to attack Dad's squadron? Well, it's war but Abbeville was out for revenge, not necessarily on Dad's squadron but any American squadron.
I'm not sure how much prior to the November 21, 1944 mission but during the war there was an incident that involved American bombers breaking the rules of air war and shooting a number of German fighters out of the sky. This incident did not involve the any member of the 398th. Another American bomber group or squadron was attacked and outnumbered by German fighters. The German fighters gained the upper hand in the air battle and the American bombers lowered their wheels. The act of lowering wheels when in battle is a sign of surrender. The German fighters positioned themselves next to the US bombers and began escorting them back to a German airbase. After a while in this situation, the bombers aimed their guns on the fighters and all opened fire. The German fighters were knocked out of the sky.
This is against the rules of war.
When word got out about what had happened US air command did two things. First, they dissolved/dismantled the bomber group or squadron involved. They couldn't stay in tact since they were surely marked by the Germans who would be on the look out for them. All crews were dispersed/transferred to other bomber groups. The second thing they did was send the word out to all other bomber groups of what had transpired and that it was unacceptable. Everyone was told don't even think of doing something like that. Also to be aware the Germans may want revenge.
What the Abbeville gang did was payback
II think I may have also read about this incident in a large, illustrated book titled The Mighty Eighth. Not sure about this.
Now, who connected this incident with what happened on November 21st? Army intelligence briefing of the captured German pilot? Army intelligence through another source? A writer / newspaper reporter who contacted Dad in the mid 80s? I think the connection is more than just scuttlebutt.
Some questions: 1) Does anyone know the Bomber Group involved? 2) Does anyone know the date of the incident?
If you can help, please contact our Comment Coordinator.
Search from German newspaper clippings at Harvard – I went to Boston Library and the Harvard Library system to search for old German newspaper from November 21, 1944 and about seven days afterwards to see if I could find mention of the shooting down of the planes. Harvard's archives are extensive and they did have microfilm and microfiche of German newspapers from the period. But by November 1944 the collection of German newspapers were either spotty or non-existent. Two possibilities: First, perhaps Harvard didn't have a full collection. (But Harvard scarfs up everything.) Second, more and more German papers due to either bombings or scarcity of newsprint and ink published sporadically or altogether ceased to publish.
I'd love to find a paper from this time. I'd also love to find transcripts of German news broadcasts of this time.
Crew in tent across from them – Towards the end of the Merseberg section of the transcript Dad (Bob) talks about the attrition rate. Dad recalled a case where a new crew moved into the tent across the way from his tent. They went up on there first mission and never came back. No one knew if they were shot down or crashed in the English Channel.
The four surviving planes – Of the surviving planes in Dad's squadron, three made it back to base in Nuthampsted. The fourth made it back to England but had to land at another base. Dad's plane was one of the three to make it to Nuthampsted.
Newspaper reporter – Around the mid-1980s Dad got a phone call from a writer from Portland, OR or Seattle, WA. This man was a retired sports writer for a newspaper in the Pacific Northwest. But during WWII he was part of a B17 crew. My memory doesn't recall if he was with the 398th BG. However, he knew of the Merseberg Mission and he knew of Dad's story. I think the writer probably contacted the pilot Joe Tarr and Joe gave the writer Dad's name. The writer may have contacted members of all four surviving planes for their stories.
I can't remember the name of the retired reporter but when he called and I picked up the phone but he just had to mention the four planes and I said "Merseberg." I told Dad this writer called. Dad called him back and they talked for a while. I thought it was cool Dad was being interviewed.
So somewhere there is an article, perhaps in a 8th Air Force magazine, with Dad's and others' recollection of that day.
Update on reporter – As of July 2007, Mom, Dad, Geoff Rice and Dave Jordan have told me the reporter is Allen Ostrom.
That's it for my notes on the transcript. Compare them with my notes on the roll of film that documents this day.
Scott Welty
July 2007
See also: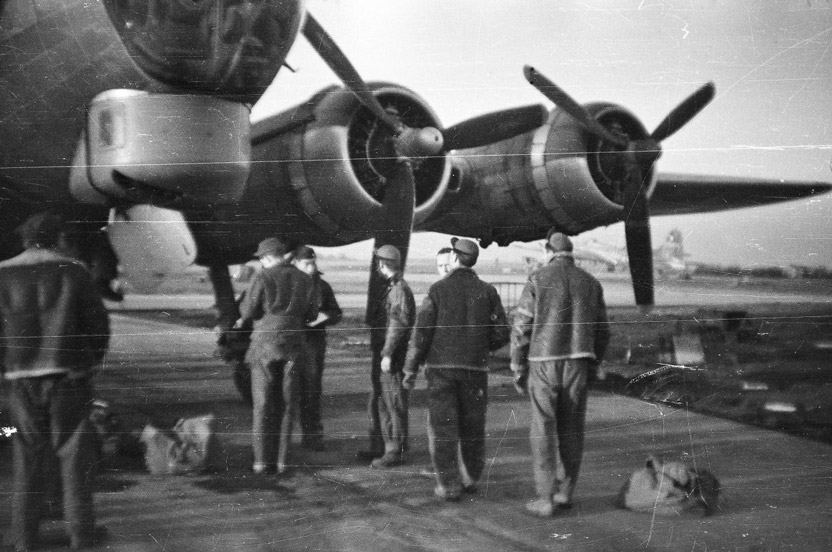 Tarr Crew Checking out Damage - 21 Nov 1944
In the above photo the Tarr crew is checking out the damage after they landed at Nuthampstead.
There are 7 crew members pictured. The only person, Scott Welty is pretty sure of is the man third from the left. That is Lt. Joe Tarr, pilot and he appears to have his garrison cap on. Lt. Tarr is facing forward but is partially obscured by the man second from left. All other crew members are unidentified at this time. Lt. Bob Welty, co-pilot is taking the photo.
This photo is from the Bob Welty WWII Collection and provided by his son, Scott in July 2007.
The photo was taken by Co-Pilot, Lt. Bob Welty. Reference: frame 28.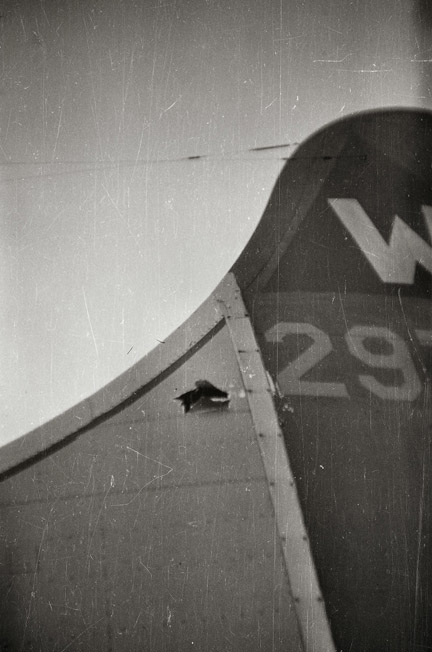 Welty B-17 A/C Tail with Hole
After Merseburg Mission - 21 Nov 1944
Tail Hole Damage after Merseburg Mission on 21 November 1944.
Aircraft Serial Number: 42-97249 N8-P How was it? Well?
The ground crew told Lt. Welty that it was made by an American 50-caliber bullet. Apparently the ground crew could tell not only if a hole was made by flak or bullet but they could tell the size of the projectile and the country of origin.
This photo is from the Bob Welty WWII Collection and provided by his son, Scott in July 2007.
The photo was taken by Co-Pilot, Lt. Bob Welty. Reference: frame 34.