A Quiet And Very Personal Pilgrimage
by Malcomb "Ozzie" Osborn
October 15th 2008, a grey damp October day. I wanted to be on my own this day, I wanted to remember that October 15th day in 1944 when the B-17G piloted by William L. Meyran and Charles Khourie, crashed shortly after taking off from runway 23 at Nuthampstead. It was Bill Meyran's 25th birthday on October 15th 1944. He had inherited a $100,000 bequest from his Grandfather and the first $25,000 was payable on Bill Meyran's 25th birthday. When he was woken up that day he had climbed from his bed and excitedly promised his buddies that there would be one heck of a party that night. Meyran was being assessed as deputy lead pilot, thus his normal Co-pilot, Navigator and Bombardier were stood down that day, it saved their young lives. Just a few hours later and Meyran would lie dead on this ancient castle mound along with nine other young American aircrew.
As the 398th flew towards it's target that day, a tail gunner, Sergeant Leroy K Bayless, quietly died of anoxia in his lonely position, another young American life lost.
Later that same day, over the flak ridden skies of Cologne, George Abbott was killed instantly when the nose of his B-17G was blown off whilst he was preparing to release it's bomb load as the crew's Togglier.
Pilots Delancey and Stahlman would bring that ship back to Nuthampstead with a feat of airmanship that still amazes anybody who studies the photographs of that B-17G with most of it's nose missing.
So today I stood alone by the moat at Anstey Castle Mound, the fish were biting on the surface of the brown water, the wind was blowing through the leaves which are now dry and ready to fall into the waters below. There was quiet birdsong, a passing crow, the sudden flapping of the wings of a wood pigeon leaving the tree in front of me. But there was also a silence, an opportunity to stand alone and pay silent homage to the memory of those ten young Americans who had paid the ultimate sacrifice at this very spot sixty-four years ago. Standing there today it was so hard to imagine the carnage, the fires, the initial explosion as the big bird came to earth full of fuel and bombs, that moment when young lives were taken so many thousands of miles from their homes.
I walked into St George's church and stood by the 398th BG memorial window. I looked at the names engraved into the wings of the butterflies. I thought of all the services that have taken place here since October 15th 1944, all the services since a church was first built here, how amazing that it still stands, for had the stricken aircraft's bombs exploded the church itself would have been destroyed.
Then I drove to The Woodman Inn and the 398th Memorial, where I stood alone and remembered George Abbott and Leroy Bayless.
Of course I then went inside The Woodman for a couple of beers, some lunch, accompanied by the usual excellent conversation with the regulars and Sandy and Ian.
After the rain stopped, having got wet inside rather than outside, I left The Woodman Inn, pausing to take some photos of the memorial in it's fall setting, before leaving for home.
See also: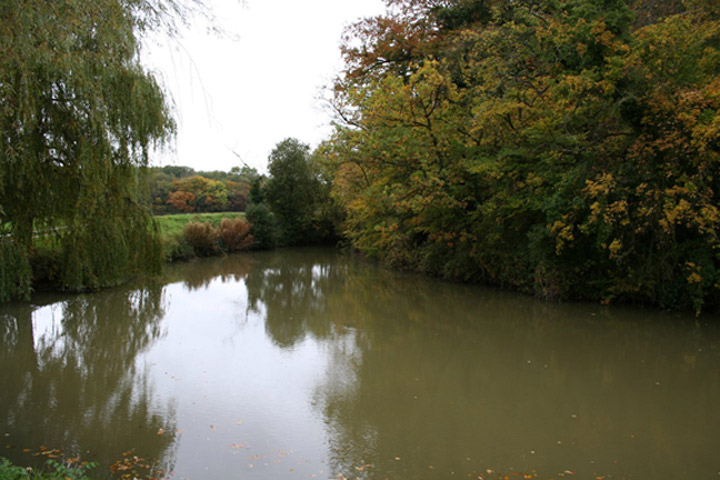 Anstey Moat - Site of October 15,1944 Meyran Crash
October 15, 2008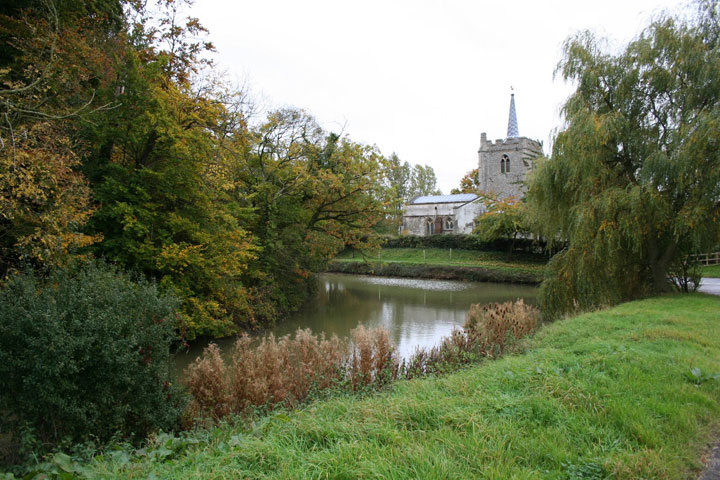 Anstey Moat and Church
October 15, 2008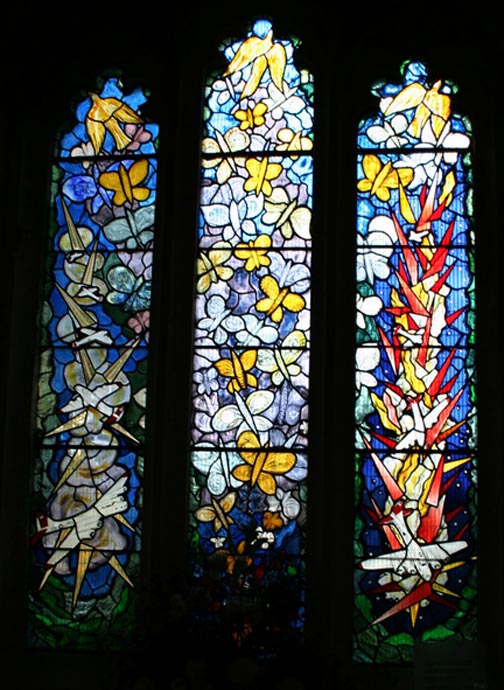 Anstey Stain Glass with names of 398th KIA
October 15, 2008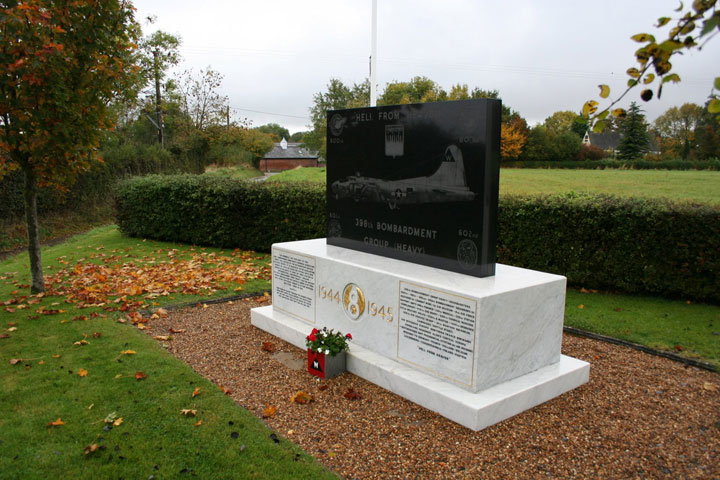 398th Bomb Group Memorial - October 15, 2008