Remembering the Newman Crash of 26 July 1944
By Bill Ahern - Fire Fighter, 2015th Engine
I was at the scene that day although not in the pictures. As one of the two outboard members on the crash truck that day it was my first duty to help evacuate the crew from the plane. By the time I reached the crash site the crew had in fact all exited the plane and were scattered, crouched in the wheat field surrounding the downed plane. The plane was a mass of flames and the ammunition was exploding furiously. It was not hard to be apprehensive that some of those exploding bullets might be coming out of the barrel of a gun. The reason for everyone crouching, and I can recall scurrying about in a crouch myself. I led some of the crew back to the ambulance and transportation to the medical site. I don't recall whether or not I returned to help fight the fire.
The following day Lt. Herb Newman, pilot of the downed plane, and a member of his crew appeared at fire headquarters, shook hands with and thanked all who participated in the rescue effort at the crash site. Our role was really minimal but he was very gracious with his praise and thanks. We chatted about home towns, families and all of that kind of soldier talk.. He was a very personable guy and immediately gained the admiration and respect of the guys of the 2015th who were present. In the following days, weeks and months whenever our paths crossed the greetings were always warm and friendly.
A few months later word filtered down to the 2015th that Lt. Newman's plane had been lost on a mission over Germany. No details-no further word. The hope was of course that Lt. Newman and his crew were able to bail out and were in a POW camp awaiting the end of the war. Eventually the war did end and we all went home to civilian life.
Over the years whenever I reflected on those days at Nuthampstead I often wondered whether or not Herb Newman had ever made it home to Little Rock, Arkansas. Recently I read Bill Frankhauser book "World War II Odyssey" where I learned of the fate of Herb Newman at the hands of his captors that day in November 1944. I had heard stories and read in books of executions of downed flyers by their civilian captors but never did I imagine that happening to anyone I was acquainted with.
Thank God for the character and the courage of Herb Newman and the combat crews of the 398th who really made a difference in the war. No wonder the generation was known as the greatest.
See also: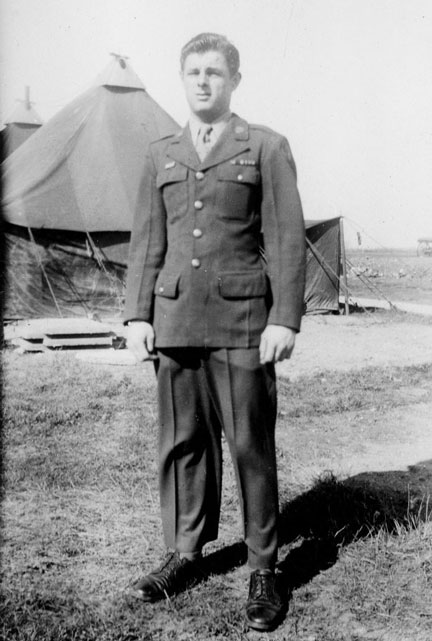 Bill Ahern
2015th Engine Fire Fighters
From the Bill Ahern Photo Collection sent to him by Mildred O'Brien.
Personal History Information
Veteran: Bill Ahern
Position: Fire Fighter
Squadron: 2015th Squadron
Date of Personal History: May 2006
Author: Bill Ahern
Submitted to 398th Web Pages by: Lee Anne Bradley