My 398th B.G. Military Career
By Robert N. Cronk
Clerk, 398th Group Headquarters
My military career during World War Two began on November 5, 1942, when I was inducted into the Army Air Force at Camp Gordon, in Augusta, GA. I was sent to Miami Beach, FL, for basic training, and billeted at the "Shoreham" and "South Shores" hotels. I can remember marching up and down the streets of Miami Beach, being very proud of my new uniform.
First assignment was at Chanute Field, IL, to attend welding school. Being born and raised in Savannah, GA, I saw my first snowfall ever (at age nineteen) at Chanute Field. It was a marvelous sight, but one which would be repeated many times during my military career. Welding school turned out to be more than I could handle, because I could not master the art of acetylene welding. Not wanting holes burned in the airplanes by me, I was promptly given my walking papers.
Those papers took me to clerical school at Salt Lake City, UT, which put me in familiar territory, having attended Commercial High School in Savannah where I became an accomplished typist. I excelled in that course, and passed with honors. As a result, I was sent to Geiger Field, WN, about May, 1943, to join the 398th Bombardment Group as a clerk in Group Headquarters.
In June, 1943, the entire 398th was transferred to Rapid City Air Force Base in South Dakota, where we became a training unit for new pilots and crews.
Upon being activated to combat status, the group departed Rapid City in April 1944, for deployment to Nuthampstead, Hertfordshire, England, near the city of Royston. The ground personnel went by troop train to Boston, MA, there to board the vessel SS Wakefield for the trip to England. During that voyage and about half way across the Atlantic, the sonar picked up some German submarines. In order to avert the danger, the ship was detoured northward so that it passed near Greenland. At that time, the Northern Lights were evident.
When we arrived at Nuthampstead, I was senior n.c.o. in the Group Engineering and Armament Office under Major Lyle Corcoran, which was located in a small Quonset hut building near the flight line. Cpl. Raymond J. Moretti, another n.c.o. with the same rank as me, was also assigned to our office. There was a spare room in that hut, so Ray and I made that our living quarters, which worked out quite nicely. Both Raymond and I were later promoted to Sergeant.
Among other duties, as I remember, we relayed to the squadrons the bomb loads for the individual missions, and the aircraft to be used for those missions. A large board was kept on a wall of the office indicating, day by day, which aircraft were "operational" and which were "out of commission" due to flak damage.
There were many unforgettable moments during my stay at Nuthampstead. One instance was when an A-25 (I believe) airplane made an emergency landing at our base. The pilot jumped from the burning airplane while it was still rolling, and when it came to a stop, one of its two bombs exploded, and the airplane was a total loss. The other bomb did not explode, and after the fire cooled, was detonated by our demolition crew.
Another case I remember was when one of our B-17s was severely hit by flak during a mission. It did return to our base but was so damaged that the pilot had a very difficult time trying to line up the airplane with the runway. Many of the station personnel were on the line watching the procedure. After three or four attempts at landing the aircraft, it was decided to fly it to an airbase in the northern part of England, where the runways were about three times wider than ours, and also longer. The airplane eventually landed safely at that base.
Being forty miles north of London, we did not encounter too many incidents with the buzz-bombs or with enemy action. However, one such encounter happened when our public address system advised that a buzz bomb was headed our way. Many people lined the taxiways to watch as it flew over our base. Just as it flew directly over our heads, at about 100 feet, the engine sputtered. We all hit the ground and were as prone as possible. But the engine started up again and continued for about another mile before hitting the ground near our bomb dump. Luckily, no bombs were affected.
My second direct encounter with enemy action was while I was visiting London. I was walking in Marble Arch, just across the street from Hyde Park, when a V-2 rocket fell from the sky into Hyde Park. I believe the bomb load of the V-2 was about a thousand pound bomb. When it exploded a little over a thousand feet from me, it knocked me from my feet and I landed on top of a fat woman (of which there were very few in England during the war), but neither one of us was hurt. However, there were casualties in the park, and much chaos.
After the war was over, they turned the lights back on all over the country. I happened to be in London on that particular day, which was about a week after the war ended, and witnessed the event in Piccadilly Circus. There were thousands of people there, and everyone was in a gay mood. It was quite a sight to see the lights come on at the various businesses there, since the blackout had lasted so long.
(After sixty years, my memory may have failed me on some of the details described above, however I believe the accounts as described were correct. If there are discrepancies, I offer my apologies.)
In late May or early June of 1945, the majority of the ground personnel returned to the United States on the original Queen Elizabeth. We sailed out of Scotland and it took approximately three days to complete the journey to New York. After indoctrination at Camp Kilmer, NJ, I returned home to Savannah, GA, for R&R.
The 398th Bombardment Group was scheduled to continue in effect and be shipped to the Pacific area to aid in the war against Japan, which was still going on. Our point of re-organization was Drew Field in Tampa, FL. Shortly after reporting to Drew Field, President Truman authorized the use of the first Atomic Bomb to end the war. The second Atomic Bomb was necessary to convince the Japanese to surrender. I was discharged from the military on October 24, 1945, at Drew Field. Although I did not stay in Tampa at that time, I did return in 1957, and have lived here ever since.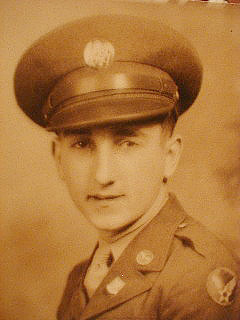 Sgt. Robert N. Cronk - Feb 1943
Sgt. Robert N. Cronk at Rantoul, IL, in February 1943 while at welding school at Chanute Field. At that time, he was nineteen years old.
Personal History Information
Veteran: Robert N. Cronk
Clerk, 398th Group Headquarters, but administratively to 600th Squadron
Date of Personal History: November 2004
Author: Robert N. Cronk
Submitted to 398th Web Pages by: Robert N. Cronk