Roll Call of the McCarty Crew - 1943 to 2005
By Ralph Hall, Tail Gunner, 601st Squadron
In 1974 I got a call from David Haight our radio operator and his wife. He said that he was at a motel a few miles from where I live. My wife and I dropped everything and went. He was touring the eastern United States and was headed for Cape Cod. We had a wonderful evening and part of the next day. During the conversation, where the rest of the crew was came up and how to get in touch with them in order to get them together. We both knew a couple through Christmas cards and the names and home town on back of the crew picture taken in Sioux City. That picture was taken thirty years previous. Dave lived very close to St Louis and that was the center of the country. Charles Weeks our co-pilot who was killed in Korea was buried in Jefferson Barracks Cemetery a short ways from St. Louis. That was decided to be the location for the meeting point. Dave would make the arrangements and I would try to locate them. Not much to work on but I would give it a try.
I knew Paul Adleman's address in Oklahoma and he knew Frank Yarmoski another Oklahoman. I remembered that William McCarty's father was a minister in Lakeland, Florida thirty years previous. A long shot, I wrote the city clerk in Lakeland and she put the word out. A few days later I got a call from William McCarty saying that everybody was telling him that he was wanted by me. That made McCarty, Haight, Adelman, McMichael, Yarmoski, and I had Larry Ruth's address. Darrel Argubright was buried in France. Frank Yarmoski and I have been to his grave on a later 398th Bomb Group reunion trip. On the back of a crew picture Arnt Aune had written his name and a small town in Minnesota. Off went a letter to the town clerk asking her for help. Aune had moved on but she knew his brother and passed the letter to him and I had my man, the hunt was complete.
A letter was sent to all saying Dave had made the arrangements in St Louis and they were to be there July 10 through 13, 1975 They all planned on it but Larry Ruth. At that time Paul Adelman was taken the hospital in Oklahoma and could not go but we called him from my room. In St. Louis we and our wives went to a ballgame, a riverboat ride, up in the arch and a visit to Week's grave where the picture below was taken. This was before the 398th was organized and we have been to several 398th reunions since then and have remained close. The years have rolled by and we have remained close.
The roll call for 2005 would mean that those that could answer the call are William McCarty, Larry Ruth, Frank Yarmoski and Ralph Hall. The other five Paul Adelman, Robert McMichael, Charles Weeks, Darrel Argubright and Arnt Aune all have silver wings and are above fighters and flak and don't need oxygen.
See also: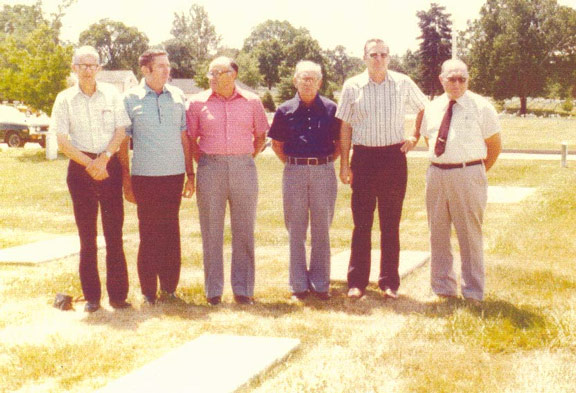 McCarty Crew - 12 July 1975
Viewers left to right:
Arnt M. Aune,
William A. McCarty,
David Haight,
Robert McMichael,
Frank Yarmoski, and
Ralph Hall
Taken on July 12, 1975 at Jefferson Barracks Cemetery, St. Louis MO at the grave site of their fellow crew member, Charles Weeks.
Personal History Information
Veteran: Ralph W. Hall
Tail Gunner, McCarty Crew, 601st Squadron
Date of Personal History: May 2005
Author: Ralph Hall
Submitted to 398th Web Pages by: Ralph W. Hall