The Extra Mission
By Joe K. Mansell, Engineer/Gunner, 602nd Squadron
On March 12, 1943 when I entered the U S Army I was nineteen years old. I was living in Abilene, Texas with my mother and father and my two sisters. I had graduated from Abilene High School in 1941 and Gail Business School in 1942. I was working for the U S Civil Service as a clerk-typist at Army Camp Barkley nearAbilene. At that time I had never been in an airplane, or even had a ride on a train.
A record of my military service follows:
Camp Wolters, Mineral Wells, TX, March 19, 1943.
San Antonio, TX - Randolph Field - cadet training. I was not selected for pilot training, but was to be an engineer/gunner
Wichita Falls, TX - Sheppard Field - basic training.
Amarillo, TX - airplane mechanics school - July 27, 1943 to Dec 4, 1943.
Kingman, AZ - gunnery school - Dec 27, 1943 to Feb 7, 1944.
Salt Lake City, UT - assigned to combat crew (Lyle Doerr) March 23, 1944.
Sioux City, IA - combat crew training-March 29, 1944 to June 10, 1944.
Fort Kearney, NE - crew assigned a new B-17 airplane.
Manchester, NH - grounded because of weather-Jun 18, 1944 to Jun 24, 1944
Labrador, Canada - June 24, 1944 to June 27, 1944.
Iceland - June 27, 1944.
Prestwick, Scotland - last time to see our airplane - June 28, 1944.
The Wash, England - gunnery training - June 29, 1944 to July 5, 1944.
Nuthampstead, England - assigned to 602 Squadron - July 5, 1944.
Munich, Germany - 1st Combat Mission-over 10 hrs in the air - Jul 31, 1944.
Mannheim, Germany - 15th mission - with another crew (Rudrud) Sep 9, 44.
Stuttgart, Germany - 30th and last combat mission - Dec 9, 1944.
Southhampton, England - departed for USA - Jan 11, 1945.
Fort Dix, NJ - landed Jan 21, 1945.
El Paso, TX - Fort Bliss.
Abilene, TX - 21 day delay in route furlough.
Santa Anna, CA - rest and recouperation stay-three days in hospital.
Chanute Field, IL - electrical school B-29's - April 2, 1945 to June 9, 1945.
Laredo, TX - working on B-29's - June 11, 1945.
Wichita Falls, TX - Sheppard Field - discharged from Army - Oct 22, 1945.
Bill Comstock and I flew along side each other several missions as he was also in the 602 Squadron, first as a co-pilot, and later as a pilot. Bill was also in airplane mechanics school in Amarillo, Texas with me in 1943. He later was accepted for aviation cadet training as a pilot.
I was the engineer/gunner on the Lyle Doerr crew, 398th Bomb Group, 602
Squadron from July, 1944 to December, 1944. On my thirty combat missions, I flew on seventeen different airplanes. Of the sixty or so of the original airplanes that were flown over with the 398th Bomb Group, there were only six left, and only one in my 602 Squadron after the war. It was Vonnie serial number 42-102593 C on which I flew on two times.
Airplanes on Missions of Joe K. Mansell
Times
Aircraft No.
Name and Disposition
1
2506-L
Unknown at this time
1
2516-H

Bronx Bomber II

(Hal Weekley was shot down 8-13-44)
1
2543-B
MIA 10-28-44
2
42-102593-C
Vonnie
3
7094-M
Crashed, Manston, England, Scott 10-5-44
1
7103-A
Marie N' Dame
3
7150-K
Salvaged, 2-25-45
1
42-97337-R
Salvaged, 11-11-44
2
7374-X

Madam X

- Made 66 missions
7
7387-H
Maude Maria, plane MIA, Berlin 2-3-45, Powell
1
8064-H
Unknown at this time
1
8164 -H
MIA on April 11, 1945, Germany
2
8274-B
Unknown at this time
1
8463-X
MIA November 29, 1944, Germany
2
8811-R
Little Obnoxius
1
8853-L
MIA April 10, 1945, Germany, completed 46 missions
When our crew was formed back in Salt Lake City, UT we had ten members that included: Pilot, Co-Pilot, Navigator, Bombardier, Engineer, Radio Operator, Ball Turret Gunner, Left Waist Gunner, Right Waist Gunner, and Tail Gunner. When we started flying, we only flew with nine members.
On some crews the pilot decided who would leave the crew, but on our crew it was left up to the waist gunners and the tail gunner who chose to rotate among themselves on each mission. This caused them to have less missions flown than the rest of the crew, but I had flown all the missions that Doerr flew up until that time.
One day when our crew was not scheduled to fly, they came in my barracks at 3:00 AM, and said that I was to fly with another crew that day. I did not like the idea of flying with a strange crew, but I did not complain. This was to have a profound effect on my life which I will explain later. I had often wondered years after the war, with which crew, and on what day that was.
In 1992 my friend Wally Blackwell, who later was elected President of the 398th Memorial Association took my list of missions and dates to the archives, and made copies of the narrative for all those dates. On that list, I saw where I flew my 15th mission with the Norman V. Rudrud crew to Mannheim, Germany on September 9, 1944. That was the only mission that I flew with another crew. This enabled me to be one mission ahead of the Doerr crew in the number of missions flown.
When I finished my tour of missions, I was on my way to the USA. This was the coldest winter in Europe in twenty years during the German offensive in "The Battle of the Bulge." The Eighth Air Force had not flown any missions for several days, because the weather was so bad.
Everyone had heard about the German offensive, and was anxious to fly to help the ground forces turn back the Germans. My crew had one more mission to go, and then they could go home. On their last scheduled mission on December 30, 1944 they flew on airplane Boomerang on their way to Bischotshein, Germany, but did not return to the air base.
On that day, there was an hour delay before take-off due to icing on the planes and on the runways. Before Doerr could even begin to taxi for take-off he ran into engine trouble and had to return to the hardstand to change plugs in one engine. Once those were replaced, they again taxied out to the runway for their take-off. After waiting for take-off there was a sharp explosion, seemingly in or near their plane. The explosion sounded so close, but it actually came from a B-17 that crashed and blew up beyond the end of the runway and two crewmen were killed. Even before that accident another B-17 had crashed on take-off, but all the crewmen had gotten out safely. Thus, there was great concern about wing icing.
Later, it was determined that the Doerr plane had crashed in the English Channel, with no survivors. The engineer, Joe Kiska from the Franklin Taylor crew, who replaced me, was trying to get his last mission in, so he could go home.
It was reported that a British rescue plane was patrolling the English Channel looking for survivors from a crash the day before. They witnessed the Doerr plane burning on the water and retrieved three bodies from the water from my crew. Two were sent home, and the other one, my navigator, John Walker is buried at the Military Cemetery at Madingly Cemetary near Cambridge, England. I have visited his grave three times. The others are still in the B-17 at the bottom of the English Channel. Their names are inscribed on the "Wall Of Remembrance" (bodies never found) at Madingly.
See attached picture made while I honored my fallen crew during a ceremony while on the 398th Bomb Group Tour in June 1992. The picture shows me throwing a bouquet of roses from a ferry into the waters at 50°33' North Latitude and 00°25' East Longitude, near the "White Cliffs Of Dover" on the southeastcoast of England.
If it was not for that extra mission that I flew with the other crew, I would not be here today. How lucky can one be!
Joe K. Mansell
See also: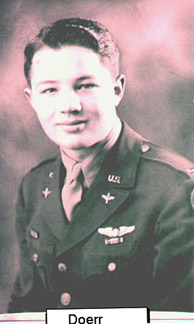 Pilot- Lyle Doerr (c1944)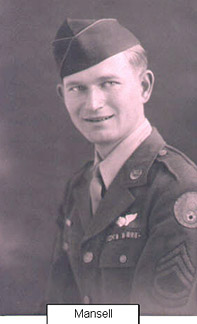 Engineer/Gunner - Joe K. Mansell (c1944)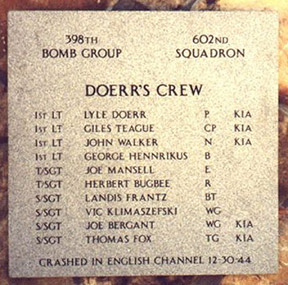 Doerr's Crew Plaque
Memorial Garden at the Mighty Eighth AF, Heritage Museum, Savannah, GA
Southeast Coast of England
Joe Mansell honoring the Doerr's Crew with Rose Bouquet - June 1992
Personal History Information
Veteran: Joe K. Mansell
Gunner, 602nd Squadron
Date of Personal History: December 2002
Author: Joe K. Mansell
Submitted to 398th Web Pages by: Joe K. Mansell