The 398th Memorial in Savannah
The Mighty Eighth Air Force Heritage Museum opened its beautiful new facility near Savannah, GA in May 1996. The Heritage Museum was established as the direct result of a maximum effort mission by many WWII 8th AF veterans. This long awaited for event created unique opportunities for WWII 8th AF units to document their histories in a permanent fashion. The Museum's Memorial Garden plan provides for installation of memorial markers by 8th AF groups, designed to honor their own organizations. The 398th Memorial Association was one of a number of 8th AF Bomb Group Associations to take advantage of this chance to design and fund a stand alone monument of its own in the Memorial Garden.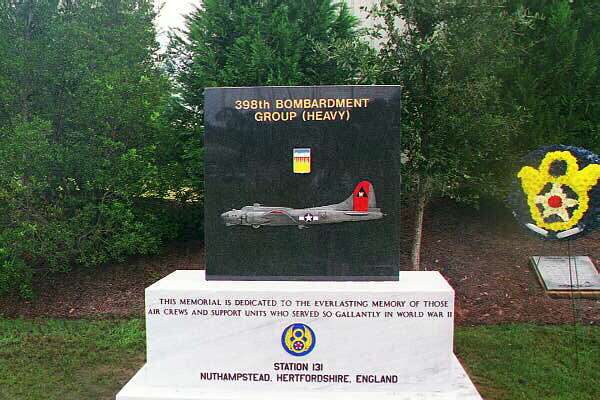 The 398th Memorial at 8th Air Force Heritage Museum in Savannah - Sept. 2000

On September 22, 2000 the 398th Memorial Association dedicated the monument shown above as a part of its eighteenth annual reunion activities that took place in Savannah, GA. The approval to undertake this project was received from the 398th general membership meeting at the 398th's 1997 annual reunion held in Spokane, WA. The 398th's Heritage Museum memorial monument is a smaller version, with essentially the same 398th history wording, of the 398th memorial monument located at the old 398th base area in Nuthampstead, England.

The funding drive for the Heritage Museum project received enthusiastic support from the membership. Funds to pay for the monument were quickly raised by the project leader 398th Director, Lou Stoffer. Remaining monies in excess of that actually needed for the monument installation were used to fund two stone benches and a tree in the Garden, plus a sanctuary chandelier in the Memorial Chapel.

A closeup of the 398th Memorial is above. Additional photographs of the Heritage Museum Gardens are below.

The above photograph was taken by Joe Mansell, 398th member on September 22, 2000. Joe Mansell was in the 602nd Squadron: Engineer/ Top Turret Gunner on the Lyle Doerr crew. Lee Anne Bradley, 398th Group Historian took the photos below. Text provided by Wally Blackwell, president 398th. If you would like to add information about this photo, please contact our 398th Photo Historian. The Photo Reference Number is PR09.

General View of Heritage Garden Showing 398th Bench


General View of Heritage Garden Showing 398th Bench