398th Indentification Logos
Below are logo indentification patches associated with the 398th Bomb Group during WWII. Replicas of most of these patches are sold in our 398th PX.
Notes:
The identification logos were provided by Lee Anne Bradley, 398th Group Historian.
If you would like to add information about these logos, please contact our 398th Group Historian - Lee Anne Bradley. The Photo Reference Number is PR01.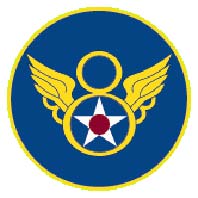 8th AAF Logo
The 398th Bomb Group was one of three Bomb Groups in the 8th Army Air Force (8th AAF), 1st Bombardment Division, and 1st Combat Wing. Above is the 8th AAF logo identification. See Bomb Groups on our 398th Links page for a listing of all the Bomb Groups in the 8th Army Air Force during the 1944 time period.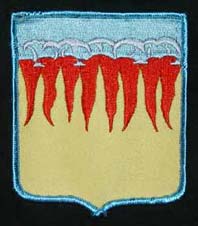 398th Bomb Group Logo
The 398th identification logo is called Hell from Heaven.
There were four squadrons in the 398th. These were the 600th, 601st, 602nd and 603rd squadrons. Each had its distinctive logo identification which were put on jackets and the B-17s.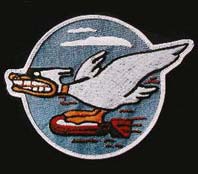 600th Squadron Logo
600 SQUADRON

: Insignia- N8, Call sign - MAPLE, Emblem - Over and through a light turquoise blue disk, DAFFY DUCK, in flight, dark gray bill, feet and band about neck yellow, riding a dark red aerial bomb, shaded black palewise, all beneath a white cloud formation in chief, and emitting black speed lines to rear. Approved January 20, 1944.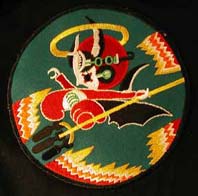 601st Squadron Logo
601 SQUADRON

: Insignia - 3O, Call sign - NEWWAY, Emblem - On a light pastel green disc border black, piped white, a baby proper, under a golden halo, wearing a red suit and aviator's helmet, with black and green ear phones and goggles, having blackhorns, trimmed white, and black bat wings, grasping in the left hand a white trident with black aerial bomb prongs, in flight above the flames of the fires of Hell proper. Approved October 25, 1943. Patch was designed by Gil Goldman, 601 Bombardier.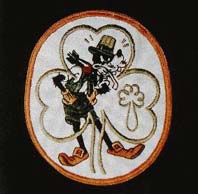 602nd Squadron Logo
602 SQUADRON: Insignia - K8, Call sign - ENCLASP, Emblem - GOOFY Dog, proper, wearing a white shirt, green jacket, tie, trousers and hat, yellow orange shoes, yellow gloves, standing with feet spread apart, hands on hips, and supporting a small black and red aerial bomb on the right shoulder, holding a white clay pipe between the teeth, all behind a shamrock formed by a light green outline; shamrock charged in sinister leaf with stylized white aerial bomb outlined green. Approved March 6, 1944.
The 602nd Squadron insignia is a Disney Studio design using Goofy a Disney cartoon caricature.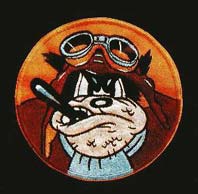 603rd Squadron Logo
603 SQUADRON: Insignia - N7, Call sign - ADORN, Emblem - On a lemon fellow disc, the head and shoulders of a pugnacious, caricatured black bull dog proper, chewing on the fin of a black aerial bomb, wearing brown aviator's helmet, tan goggles, trimmed blue, brick red jersey, and a light turquoise blue scarf wrapped about the neck. Approved October 25, 1943.
The 603rd Squadron insignia is a Disney Studio design using Peg Leg Pete a Disney cartoon caricature. In the design, Peg Leg Pete is dressed in an aviator jacket, scarf, helmet and goggles and he is chewing on a bomb instead of a cigar.