398th Short Snorter
27 September 1944

at Nuthampstead

The Short Snorter tradition began in the 1920s as aviators meeting up or traveling together would sign a currency. Tradition has it that "if you signed a short snorter and that person could not produce it upon request, they owed you a dollar or a drink (a "short snort")." Typically these bills were produced from everyday wallets and are not typically in pristine condition.

The Short Snorter Project page provides further information on the history of the Short Snorter

The tradition continued at Nuthampstead during the 398th's time there in 1944 and 1945.

Below are scans of a Short Snorter begun 27 September 1944 and the 398th men who signed it, perhaps while having a drink at the Officer's Club or the Woodman. It is unclear who the original owner of the Short Snorter was as he did not need to sign his own Short Snorter.

These scans were provide to the 398th by Dan Deloria. The story of this Short Snorter's rescue follows. If you would like to add information about the 27 September 1944 Short Snorter, please contact our 398th Group Historian.

27 September 1944 Short Snorter Rescue
by Dan Deloria
March 8, 2010
I recently came into possession of a Short Snorter that was signed by a number of men from the 398th Bomb Group. My grandfather had the bill in his possession when he passed away in 1960. My Mom kept it for many years and gave it to me this summer. We took a quick look at it and then started looking on the internet for some of the names. the first name that I found some reference for was Malcolm "Mal" Clarke, of Wellsboro, Pa. I found several articles which mentioned his name on Explore Historical Newspapers Online. While searching, I ran across a reporter for the local Wellsboro paper whose name is Cheryl Clarke. I got in touch with her and she confirmed that Mal Clarke was still alive and living in Wellsboro. Cheryl is actually Mal's neice (via marraige). After Cheryl contacted Mal, his son, Michael then contacted me. He related that Mal was in the 398th Bomb Group in WWII. I then used your great website to figure out many of the other names that were on the bill.
I used the original crew lists, the DFC lists, and other references that you have to decipher and reference the names on the bill. I managed to find a few of the other names on a website that listed POW's from Stalag Luft I. I have attached a scan of the front and the back of the Short Snorter to this e-mail along with a list of the names and their location on the bill. I sent the bill on to Michael Clarke, who is going to have it framed for Mal Clarke.
In an unusual twist to this story, I have spent many years searching for historical aircraft wreckage as an avid "Wreckchaser". I am always interested in stories about crashed aircraft. My father related a story of a B-17 bomber that crashed near his hometown of Martin South Dakota. Because there was no possibility of a member of a crashed crew having signed the Short Snorter, I did not check out the Crashed in Training page on your website until later. Imagine my surprise when there was a crashed B-17 from the 398th that crashed near Martin South Dakota. See Kiernan's Crew Monument Marker West of Martin, SD.
A quick check with a wreckchasing website confirmed that there was only one known B-17 crash near Martin, and that was from the original crews of the 398th. Over 60 years later, I was in temporary possession of a Short Snorter that had been signed by members of the 398th, who most likely knew the men that perished in a B-17 crash outside my Dad's home town, and he witnessed. Strange.
I hope that you find the Short Snorter as interesting as I have and can post some of this story on your website.
Thanks,
Dan Deloria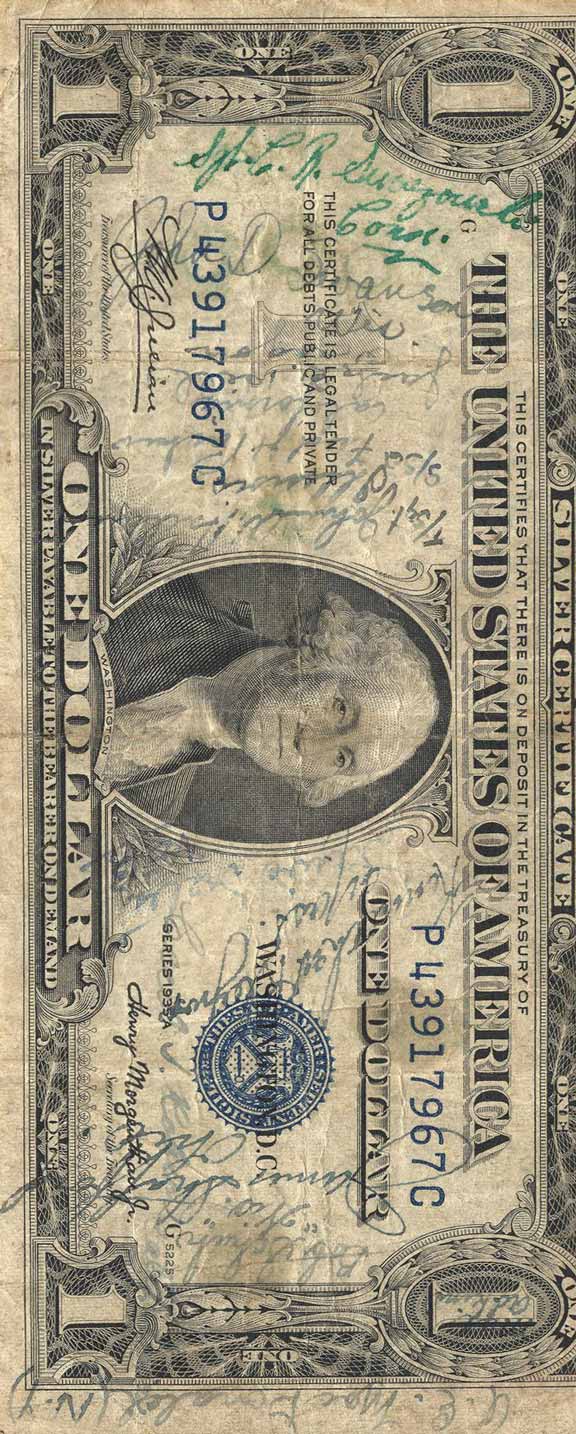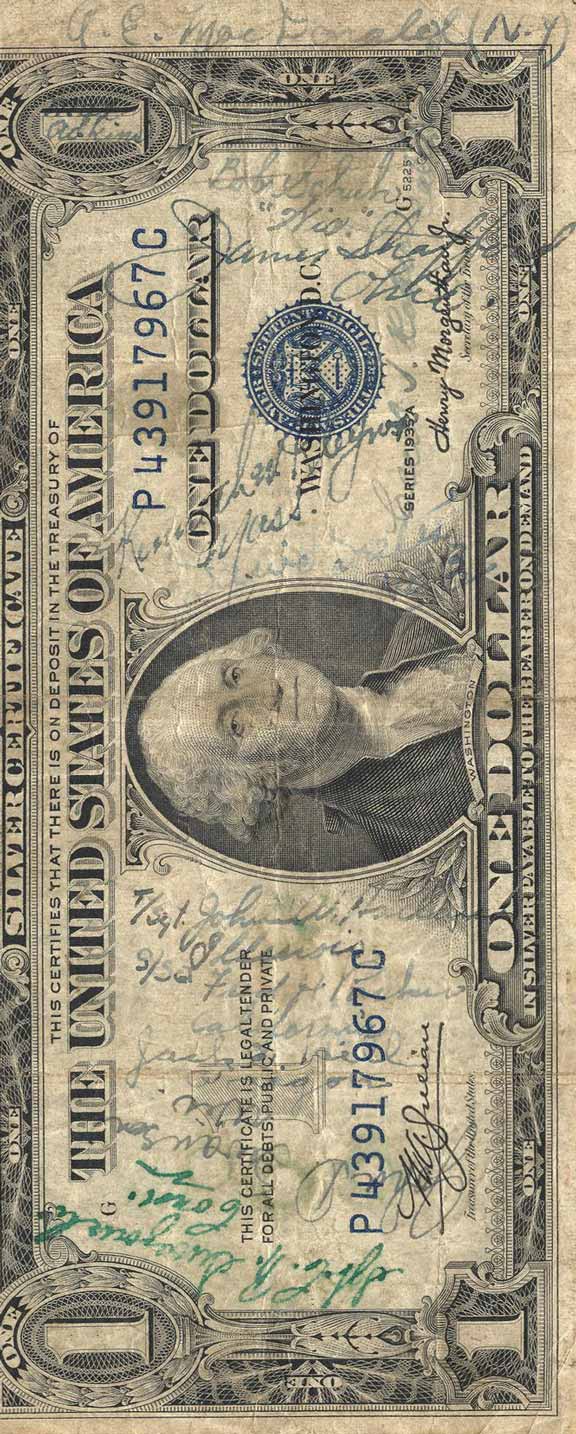 27 September 1944 Short Snorter (Front)
List of Names:
Left side, middle to top, "Sgt C. R. Surazuski(?)"
Next in, left side, middle to top, "John D. Swanson, Wis."
Next in, left side, middle to bottom, "Jack (?) Hill, Oregon", possible Jack E. Hill, original crew 19, gunner
Next in, left side, middle to bottom, "S/Sgt Fred H. Parker(?), California", original crew 18, tail gunner
Immediately left of Washington, middle to bottom, "T/Sgt John A. Harbauer, Illinois" name on DFC list, 398th Bomb Group website. (possible)
Immediately right of Washington, middle to bottom, "David Szetes, NEB."
Next out, middle to bottom, "Kenneth W. Kleynen, Mass." (Lowell Sun, 10-28-44, in 398th Bomb Group)
Next, under seal, left to right, "Cecil J. Roberts Calif."
Next, right of seal, middle to bottom, "James Strafford, Ohio", shot down with Phirn Stout Nov 26, 1944, see WWII - Prisoners of War - Stalag Luft IV - James Strafford.
Next, middle to bottom, "Bob Schuh "Wis"
Upper right "1", "Max Adkins"
Far right edge, "A. E. MacDonald, N.Y."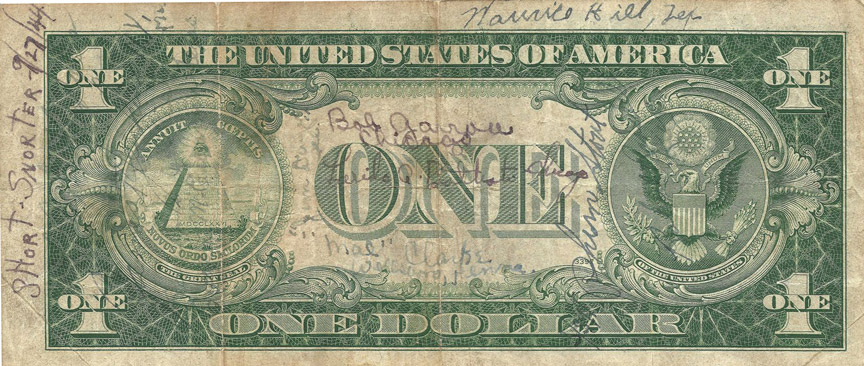 27 September 1944 Short Snorter (Back)
List of Names:
Left side, middle to top, "Short Snorter 9/27/44"
Next in, left side, middle to top, UNKNOWN
Next in, left side, middle to top, "James Jenkins", original crew 15, waist gunner, Asst radio operator.
Next in, left side, middle to top, believe to be "Raymond J. Clisham", original crew 18, top turret gunner.
Next in, left side, middle to top, "Eugene, M. Eichman Texas", original crew 18, ball turret gunner.
Next in, left side, middle to top, "Jim Du_ _ _ Ill?"
Middle, left to right, over "ONE", "Bob Garrou Chicago"
Middle, left to right, on "ONE", "Lerido Q Battista Chicago"
Middle, left to right, under "ONE", "Mal Clarke Wellsboro, Penna", original crew 18, radio operator, gunner.
Top edge, left to right, "Maurice Hill, Tex",
Right of "ONE", middle to top, "S/Sgt Phern Stout" Shot down with Jim Strafford on Nov 26, 1944, was POW, see World War II - Prisoners of War - Stalag Luft I - Phern Stout.
Next to Phern Stout, middle to top, "Robert R _ _ _ _ _ del Ky"