The History of Squadron Patches - Part I
by Jeff Eberle
My Grandfather, Ray Vicha, was a tailgunner and a waistgunner in the 603rd Bomb Squadron. He flew 17 missions with the Bob Hopkins Crew, and later finished up with the Jack Lee Crew on the venerable "Miss X", ending with 30 missions total. After my Grandfather passed away, he left the family a chest containing all of his photos, documents, medals, letters home, etc. from his days with the 398th. Among these articles was a small commemorative booklet handed out to the crews of the 603rd when they left Rapid City Army Air Base for England in early 1944. The cover of this booklet housed an image of a bulldog wearing a leather flight helmet and goggles, chewing on a bomb. I learned later that this character was "Peg Leg Pete", a Walt Disney cartoon character, and official mascot of the 603rd.
A year or two after I first saw "Peg Leg Pete" on my Grandfather's 603rd booklet, I was scouring the endless expanse of Ebay, digging around in all of the deepest corners searching for 398th related items. I came across a listing for a 603rd Squadron patch, something I'd always wanted for my collection, so I had a closer look. Listed was a roughly 4" diameter patch showing the 603rd mascot. The seller stated that the patch was found in the bottom of a box while employees from their company were cleaning out an old Hollywood costume studio, and the seller assumed it was a theatrical prop from a long forgotten war movie. I went ahead and bought the patch, not knowing really what I was buying, and waited eagerly to see what would arrive in the mail. A few days later the patch arrived, and I was surprised to see that it was hand painted on a canvas disc. On the backside of the disc was an old, smeared and faded ink stamp, it said "Max -erman & Sons Costume & Props" (I couldn't make out the first letter, so I assumed it was "H"). I searched high and low over the next few months for any record of a "Max Herman & Sons Costume & Props" studio, I found no trace of such a facility. I even had friends that live in Hollywood snoop around for me, and they too, found nothing. I sent out e-mails to the folks in the 398th Bomb Group Memorial Association (BGMA) and nobody knew for sure exactly what I had dug up. We all kicked around a few different theories, maybe it was an early "one in a million" prototype, maybe it was post-war copy, etc.
Time passed, and, having found no information whatsoever on the RKO patch, I put it in a box, and there it has sat until recently. I began wondering about the patch again, and once more, I began to search for answers. I came across another collector who was thinning out his inventory, and he had a twin 603rd RKO patch to mine, as well as a 600th and 602nd. I purchased all three, along with several others from this collector. He didn't know much about their history either, but I figured they'd be worth adding to my collection. When I received this new group, one question was answered immediately, the ink stamps were much easier to read and I found it the name of the costume and prop outfit was "Max Berman & Sons" not "Max Herman" as I had assumed. I started a new search armed with this new information and still found no solid leads regarding the RKO-Max Berman patches, I did find a lot of dead end's and speculation among collectors. What I was able to find in my search was the fascinating story of how Walt Disney and his designs became involved in the war effort:
In World War I a young American ambulance driver in France named Walt Disney was exposed, for the first time, to a new form of art adorning the cowls of trucks and the sides of airplanes. This art form later became known as "nose art". Disney was quick to realize the morale boosting effects of this art form among the troops, and it was an experience Disney kept in the back of his mind after he returned to the United States in 1918. Disney went on to establish himself as the premier cartoonist of the era, and in 1939, the U.S. Navy came knocking. The Navy asked Disney to draw up a mascot to paint on one of their new ships. Disney came up with a bumble bee in a sailor's hat, wearing boxing gloves. The Naval unit involved was so pleased with the design, that they adopted it as their unit insignia and began painting it on their jackets and other vehicles. Soon, the rest of the armed forces caught wind of Disney's creation, and shortly thereafter Walt Disney was swamped with requests from units asking for their own mascot.
Walt Disney recruited the help of six of his top artists to fill the demand for unit mascots. With the brainstorming of the whole Disney staff, Walt and his six artists went to work drawing up mascots for the armed services. The first two mascots produced by Disney in WWII went to the "Eagle Squadron" of the Royal Air Force, a unit of American volunteers flying for the British prior to American involvement in the war, and to the famed "Flying Tigers", another volunteer force operating out of China.
After America's official entrance in the war, Disney and his staff worked tirelessly creating new designs for our fighting men. By 1945 the Disney group had created over 1,200 logos featuring nearly every critter that could swim, fly, crawl or slither, from owls to apes to octopi. Hundreds of new characters were born during the war years in Disney's studio, including nearly 150 new dog and cat creations. The most popular character by far though was Donald Duck, who was found on more insignia for more different units than any other Disney cartoon. Conversely, Peg Leg Pete of 603rd Squadron fame was one of the least used Disney characters in the war. Another notable character from Disney was surprisingly absent on American insignia, Mickey Mouse. Walt Disney didn't want the friendly and loveable Mickey to be associated with war and it's ugliness. So, Mickey Mouse was never officially used as a unit mascot during the war. (It is interesting to note that German Luftwaffe ace Adolf Galland did however sport Mickey Mouse as his own personal insignia throughout the war.)
Warner Brothers soon joined the war effort as well adorning insignias and equipment with Daffy Duck (as we find with the 600th Squadron), Bugs Bunny, and others. Between Disney and Warner Brothers, just about every outfit in the armed forces was sporting a cartoon mascot of some sort. Many units also opted for more sinister mascots such as Grim Reapers, Devils, the Skull and Crossbones, etc. Before long planes, boats, jeeps, tanks, jackets, dinner plates, stationary, and just about anything else you could print an image on were soon adorned with these proud unit crests.
Someone was producing these insignias in substantial quantities, but who? I've searched high and low for the answer, and have come back empty handed. No one seems to know just who was in charge of producing and distributing these insignias. For now, I've focused on the patches, and here's what I have confirmed:
Most "authentic" squadron patches appear to fall into one of these categories:
Embroidered or "Chenille" which seems to be the most common type seen in photos dating from the era.
Hand painted leather or a decal on leather
Hand painted on canvas or silk-screened on canvas
Several different "field made" variants are also known to exist.
This is about as far as the trail goes. I've found no records indicating who manufactured or distributed any of the various different styles listed above, with exception of the hand painted canvas style. Nearly all of the hand painted canvas patches I've seen have the "RKO Radio Pictures" or "Max Berman & Sons Costume and Props" ink stamp on the back.
I decided to focus on these RKO-Max Berman patches since they were the only clearly marked insignia I've found. Here, my search took another turn. After contacting several of the experts in the field, I found that opinion is split regarding the authenticity of the RKO-Max Berman patches. Some collectors claim the RKO patches were produced by RKO Radio Pictures in conjunction with Max Berman & Sons during the years 1941 to 1945, making them authentic wartime insignia. This theory seems logical as RKO Radio Pictures was a major distributor of Disney films and merchandise at the time.
Other collectors challenge that shortly after the war, RKO came into possession of a large quantity of squadron patches, and had their prop artists (Max Berman & Sons) copy each insignia and warehouse them for future use in the movies. Those that suggest this theory claim the RKO-Max Berman patches are, in fact, these studio copies made shortly after the war. While this theory is also a possibility, I have seen RKO marked patches for nearly every unit that ever saw service in the Air Corps, including various flight schools, air warden/ civil air patrol units, even gunnery and navigation schools. I find it highly unlikely that RKO Radio Pictures would have planned on producing a movie so monumental it would include basic training schools and the civil air patrol.
What is known about the RKO-Max Berman patches, however, is that they were produced sometime between 1941 and 1950. RKO began to experience financial problems in 1948, and beginning then, the studios were bought and sold several times. By 1950 they had dropped the "RKO Radio Picture" title (as is found on all of the patches) in favor of the "RKO Pictures" title. In 1955 Howard Hughes bought RKO, merged it with General Tire creating "RKO-General" and micro-managed it into the ground.
Anyhow, back to the mascots. The Army Air Corps continued to use Disney and Warner Brothers logos to identify units after the end of the war. In 1947 the new "United States Air Force" was officially born. Shortly after the birth of the Air Force, the top brass sat down and decided that cartoon characters were too light-hearted for fighting men, and the use of cartoon mascots was banned except for a few special units. With the new orders from the top, and the Cold War looming, the new Air Force turned to more traditional military heraldry, and thus died the wonderful era of the cartoon mascot.
Today, original squadron patches of any sort are extremely rare finds, including the mysterious RKO patches. Original patches showing a Disney character are highly prized collectibles among both militaria and Disneyana collectors. Many were made, but few still exist today, and nobody seems to know where they came from or where they all went. Maybe someone will remember how and where they got theirs during the war, I'd love to find out.
Today, if you're looking to add a squadron patch to your collection, high quality, affordable reproductions of the embroidered versions are available. I have not seen any reproductions of the painted or silk-screened types. Be careful when buying an original; fakes, post-war replacements, and "worn" reproductions are nearly impossible to tell from originals. The safest bet when searching for an original, or at least a vintage item, is the hand painted RKO style, due to the amount of work that would be involved to "fake" such a patch, the labor required simply wouldn't justify the money made selling it. Another helpful tip when searching for an original embroidered patch is to view it in the dark with a black light. Dyes and pigments used in thread prior to 1950 will not glow under black light inspection. All reputable dealers are aware of this, and should have no problem if you ask if this has been done.
Below I have included images of several examples from my collection to show the slight differences in quality and artwork.
Jeff Vicha is the grandson of Ray Vicha, 398th Bomb Group, 603rd Squadron. The above article was submitted by Jeff for the 398th web pages in October 2008. Jeff Vicha is also our 398th Awards Coordinator.
See also: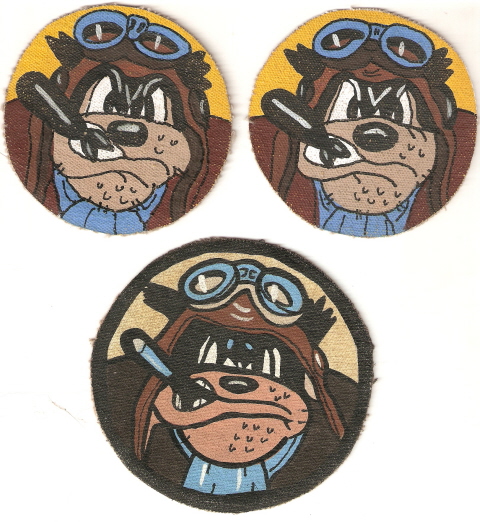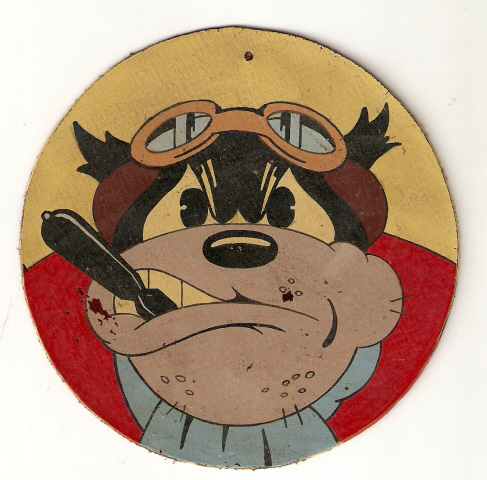 Top: (2) Versions of RKO-Max Berman & Sons hand painted canvas 603rd patches
Middle: Silk screened on canvas variant
Bottom: Hand painted on leather variant, presumed to be original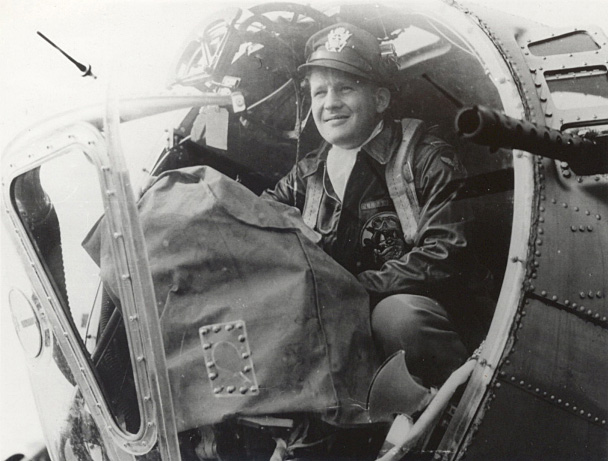 Above: Dave Moore, 603rd bombardier,
wearing what appears to be an embroidered or "chenille" insignia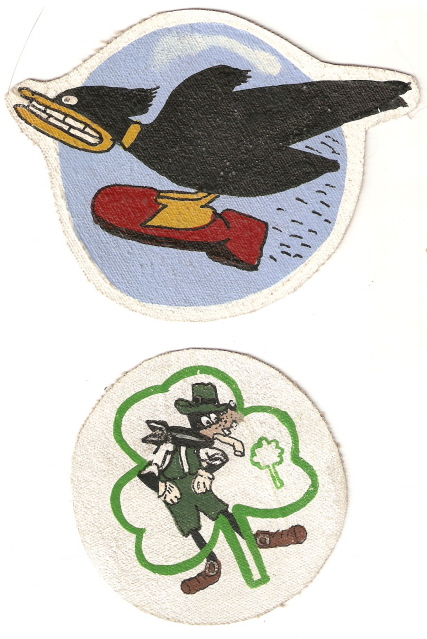 600th and 602nd Squadron RKO-Max Berman & Sons hand painted patches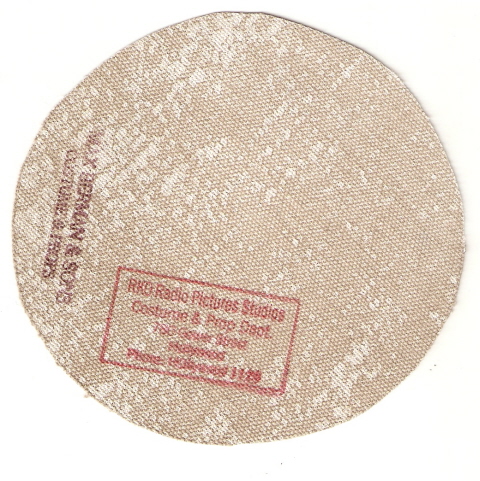 Max Berman & Sons and RKO Radio Picture ink stamps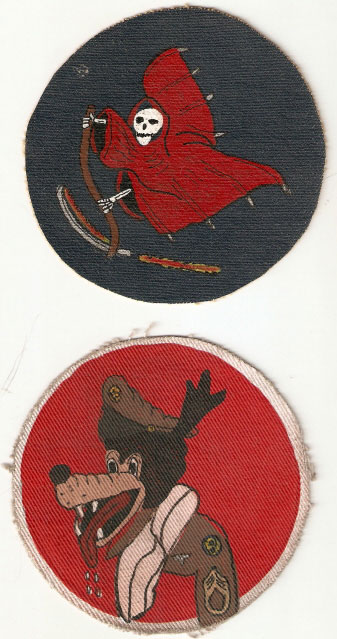 Top: 306th Bomb Group 423 Squadron 8th, AF B-17
Bottom: The "Hard Luck" 492nd Bomb Group 856th Squadron, 8th AF B-24.
The only unit in the 8th Air Force to be disbanded due to casualties.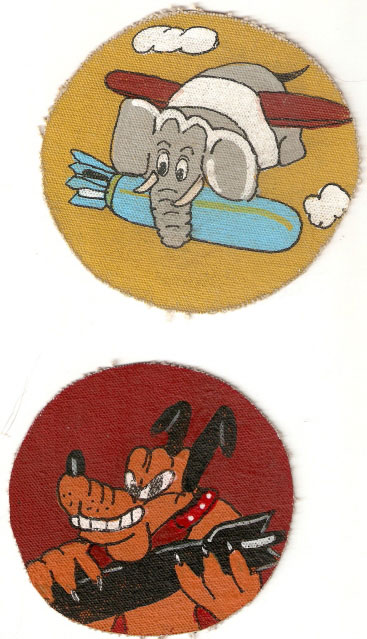 Top: 452nd Bomb Group 728th Squadron, 8th AF B-17
Bottom: 322nd Bomb Group 451st Squadron, 8th AF B-26 Marauder