Shady Lady Monument
Rechicourt Le Chateau, France
The monument was prompted as a result of the crash of the Shady Lady on 8 September 1944. The Shady Lady was a 601st Squadron, 398th Bomb Group B-17 aircraft (42-97385 3O-X Shady Lady) flown that day by Lt. Warren J. Wade and crew on a mission to Ludwigshafen, Germany.
The history of the incident and the creation and dedication of the monumet are as follows:
Jean Marie Heckmann, president of "les Anciens Combattants" (veterans) from Rechicourt, France, initiated the making of the memorial at the attempted escape site. His organization paid for the monument, and he along with Paul Demange chose and placed the memorial.
The dedication for the Monument at Rechicourt for the attempted escape was June 5, 2009. There is a 2nd monument dedicated to the Shady Lady at Ley, France. Both monuments had special ceremonies involving bands, military, dignitaries, planes flying over the site, people with flags from each village in the county, and more.
The Monument at Rechicourt is dedicated to three members of the Wade Crew. They are: Lt. Warren J. Wade, Sgt. Wilbert Y. Burns, and Sgt. Eugene Gamba.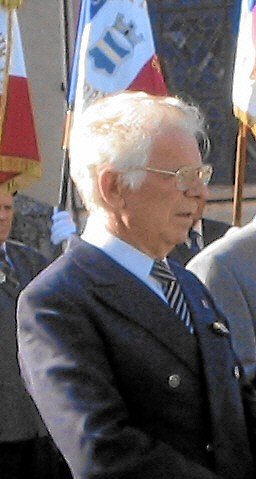 Jean Marie Heckmann