World War II Experiences
"Timeless Voices" Oral History Project
1997 Reunion Presentation by
Lt. Fred Gonzales, 398th Bomb Group Pilot
603rd Squadron, Eighth Air Force
audio controls - start, pause and volume
Notes
The audio begins with a short introduction by Allen Ostrom, 398th Reunion Coordinator for 1997. This is an audio presentation only. There is no video; however, various links below will pop up windows of associated images and data.
The Fred Gonzales, 398th Pilot - 603rd Squadron 1997 Reunion Presentation runs 13 minutes 27 seconds. The presentation took place in Spokane, Washington on July 17, 1997 at the 398th Bomb Group Memorial Association's Annual Reunion Welcome Dinner. At the dinner, there was a presentation called:

The Other Side of the War

by three men: Fred Gonzales, John McCormick, and Dean Whitaker. All three were shot down and later in life visited the locations where each came down.
In the presentation, Fred Gonzales speaks of his crash on 23 January 1945 while flying that day with Col. Hunter, the 398th Commanding Officer. All on board that day were Killed in Action except Lt. Frederico Gonzales, the only survivor. Included are Fred's interactions with German civilians and military after the crash.
Fred Gonzales, 398th Pilot - 603rd Squadron 1997 Reunion Presentation Transcription - open to read along while listening to the audio. The presentation has not yet been transcribed. If interested in transcribing see contact details at the beginning of 398th Timeless Voices Interviews Transcription Status.
Lt. Fred Gonzales was the pilot of his own 603rd Squadron crew.
Special thanks to Lee Anne Bradley, 398th Group Historian for recovering the original 1997 audio cassette tape and converting it to a digital file and to Dave Jordan for partitioning, speed adjusting, and converting to a suitable web audio format.
To play the audio above click on the play button. Additional information can be found on our Timeless Voices index page under Getting Connected.
See also: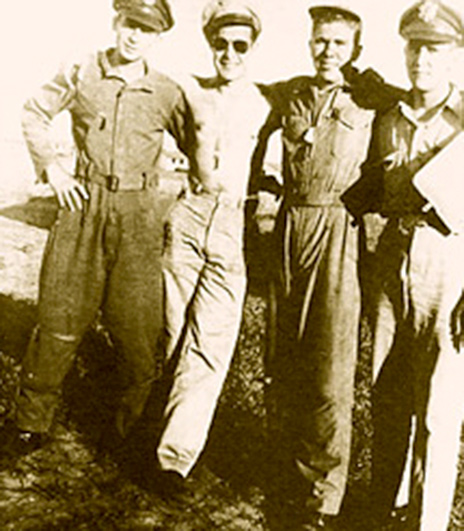 Lt. Gonzales is the 2nd man from left (in sunglasses and without shirt. Photo is presumed to be taken at Nuthampstead. Other men have not been identified.
Additional photo links below under "See also".